Put in Bay 2014 Events Calendar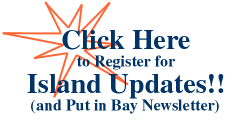 Welcome to Put-in-Bay Ohio Summer season 2014. Review the schedule of events where every weekend at Put in Bay is a new reason to have fun! Special events at Put in Bay start in April and run thru late October on the island.

Event dates may change! Please contact your favorite event to confirm dates and times before making your travel plans!
FEBRUARY 2014
MARCH 2014
APRIL 2014
MAY 2014
JUNE 2014
JULY 2014
AUGUST 2014
SEPTEMBER 2014
OCTOBER 2014