*** Event Update – 2019 was the end of the Phlocking. There is no event this year ***
Do you have a hunger for a Cheeseburger in Paradise? Well you're in luck because we have just the thing to fix you up! Join us at Put-in-Bay for Phlocking of the Phaithful, the annual Jimmy Buffett tribute weekend… A Party With a Purpose! Find yourself 'wasting away again in Margaritaville' and join your fellow Parrot Heads who are all having a great time!
Phlock to Put-in-Bay June 4th-7th and Celebrate Jimmy Buffett!
This is one of the most fun weekends on the entire Put-in-Bay calendar of events, so don't miss out. Many of the local businesses join in on the fun and decorate their storefronts for this Buffett-themed occasion. Some places even offer special promos and events for those Phaithful that flock to the island. It is widely known that this is the second longest continuously running Parrot Head and Trop Rock event in the United States of America. To get more details and specific event info, please head over to the Phlocking Website to register. Explore all of the events on the site and learn more about the extra island-inspired goodies you will receive with your registration.
Phlocking of the Phaithful Food and Fun History
The official host of this year's Jimmy Buffet tribute weekend is Reel Bar. Their lively atmosphere on the edge of downtown will serve as the central location for several of the weekend events. There is so much to love about this island bar, you might not even know it is owned by island Rock God, Ray Fogg. The Reel Bar offers a delicious selection of breakfast, lunch, and dinner offerings. Take a peek at the menu for a full listing of all the food options that are offered. Once you're here, you'll find that many other island pubs and bars join in the Parrot Head festivities. Check out our dining page to plan your Buffet-inspired bar crawl before you arrive at Put-in-Bay. You'll definitely want to plan a return trip in order to experience them all!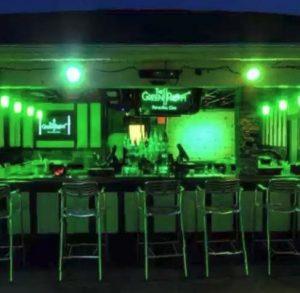 Lodging
There are plenty of amazing accommodations and lodging within walking distance of the main event hub. We are sure that you'll want to join in the Parrot Head festivities for the whole weekend. Here is a list of some nearby popular Lodging options for you and your Parrot Head crew:
Put-in-Bay Waterfront Condos

– right on the waters of Lake Erie, and brand new

The

Peace and Quiet House – Two 8-person duplexes in a

quiet area of the island surrounded by beauty

The Commodore Resort–

continue the party after hours at MIST and Mr. Ed's, or get a good night's sleep
There is lodging suitable for everyone, but as we mentioned above… this weekend is kind of a big deal! It is the Second Longest Continuously Running Parrot Head and Trop Rock Event in the Country! Don't be that guy and miss all that is in store for those that plan ahead. Reserve your rooms to today before all the rooms are snatched up by the Parrot Heads! Go to the lodging resource page for our full list of accommodations!
There are no reviews yet. Be the first one to write one.