Flying into Put-in-Bay's airport is simply a spectacular experience. With all of the Bass Islands visible from the air, there are breathtaking photo opportunities.
Put in Bay's airport was awarded 4 stars in the book "The $100 Hamburger" authored by John. F. Purner and designated as a top fly-in recreational area by Flight Guide.
The Put in Bay airport identifier is 3W2 and is located at 41.35.21N, 82.49.70W with an elevation of 595 feet depending on how many people are on the island. (Just Kidding) Check out the official Put-in-Bay Airport Website.
The Put-in-Bay airport is open for arrivals and departures from dawn to dusk. Our runways are not lit and no departures are permitted after dusk. No student training or touch and go's. Expect moderate turbulence on approach when winds exceed 10 knots. When flying, remain at least 1000 feet from Perry's monument located 1-1/2 miles northeast of the field with an elevation of 942 feet MSL. Our traffic pattern is 1600 feet MSL.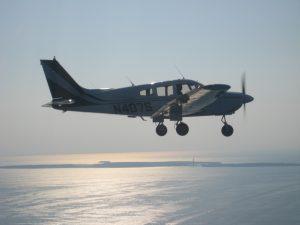 No fuel services are available at the Put in Bay airport but may be purchased at two nearby airports, Port Clinton (PCW) and Sandusky (SKY). Pilot services available at the Put in Bay airport include charter, pilot lounge, refreshments (vending), rest-rooms, and golf-cart rental. Repair services: airframe. Credit cards accepted: MasterCard, Visa.  Put-In-Bay Taxi service is available from the airport by calling 419-285-5466.
The Put-in-Bay airport runway is 2870 feet by 75 feet in length with runways 21 and 3. Runway 21 is preferred and left traffic. Runway 3 is right traffic. When planning on staying overnight, be sure to visit our lodging page for reservations. For golf cart rental while on the island, visit our Golf Carts page for the best deals and the ONLY overnight golf cart rentals on Put-in-Bay!