Put-in-Bay Condo Golf Cart Rentals
PLEASE NOTE: Golf Carts are for rent to Put-in-Bay Condos guests only! If you are not staying at the Put-in-Bay Condos, we recommend the Put-in-Bay Golf Cart Depot. You can give them a call at 419-800-2278 or visit them at their website.
The Put-in-Bay Condos not only offers the best place to stay on the island, they also have the best Put-in-Bay golf carts.  Guests staying at the Put-in-Bay condos and Island Club Rentals have access to these private golf cart rentals.  Furthermore, the golf carts are in mint condition to ensure that guests staying at the condos are well taken care of.
Rates vary from mid-week to weekend rentals and the best news is that Put-in-Bay condos has golf cart rentals that have no extra fee to keep the golf cart overnight! In order to enjoy Put-in-Bay to the fullest, stay at the condos and whiz around the island in your own cart! The Ez-go golf carts are practically brand new! Other golf carts brands you'll find on the island are Club Car and Yamaha. Secure your golf cart and see all the different Put-in-Bay attractions available.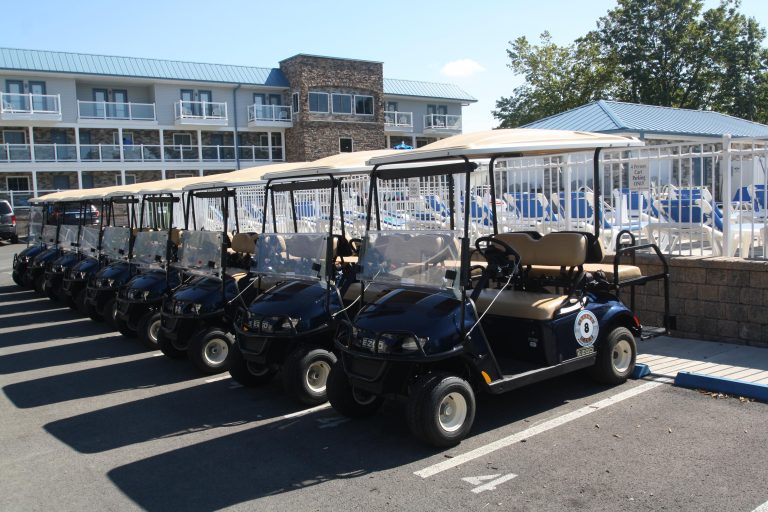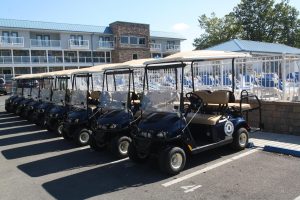 As soon as you hop off the ferry dock of the Miller Ferry, take a Put-in-Bay Condos Taxi to your condo and prepare for some golf cart fun! Welcome to Put-in-Bay! Put-in-Bay Ohio has plenty of golf cart rental agencies to choose from. However, for guests staying at the Put-in-Bay Condos, the golf cart rentals are the cheapest available. There is no extra overnight fee and guests can enjoy their golf cart for the entire length of their stay. in addition, the golf carts are located on site! 4,6 and 8 passenger golf carts are available for rent.
If you are not a guest at the Put-in-Bay Condos or Island Club Rentals we suggest renting from the Put-in-Bay Golf Cart Depot. They have both gas and electric golf carts. The 2-person electric carts are great for couples and single riders. Day rentals along with overnight rentals are available as well as 4, and 6 person carts.
More Information
Cruise around downtown Put-in-Bay in style. The rest of Put-in-Bay Island has more than enough places to see and things to do. Once you've built up an appetite, stop in at your favorite Put-in-Bay restaurant.
Renters must be at least 18 years of age to rent licensed motor vehicles and Put-in-Bay golf cart rentals. In addition, all carts must have seat belts, taillights, and working turn signals.  Rental rates may vary between weekend and weekdays.  We have 4 and 6 person golf carts available with no addition overnight golf cart rental charge. Guests must obey all traffic laws. Lastly, all renters must have a valid drivers license.
The Put-in-Bay Condos is the best Put-in-Bay hotel according to the best on the bay awards. The address to the Put-in-Bay Condos is 1240 Tri Motor Drive, Put-in-Bay, OH 43456. Tri Motor Drive is located just off Langram Rd. Other great Put-in-Bay lodging places include the Island Club Home Rentals, Bird's Nest Resort and the Commodore Resort. As you get off the Put-in-Bay ferry, whether it be the Miller or Jet Express, get ready for some golf cart exploration on South Bass Island.
There are no reviews yet. Be the first one to write one.