Jet Express Put-in-Bay Ferry
The Jet Express is running their full summer schedule! Check the schedule for sail times.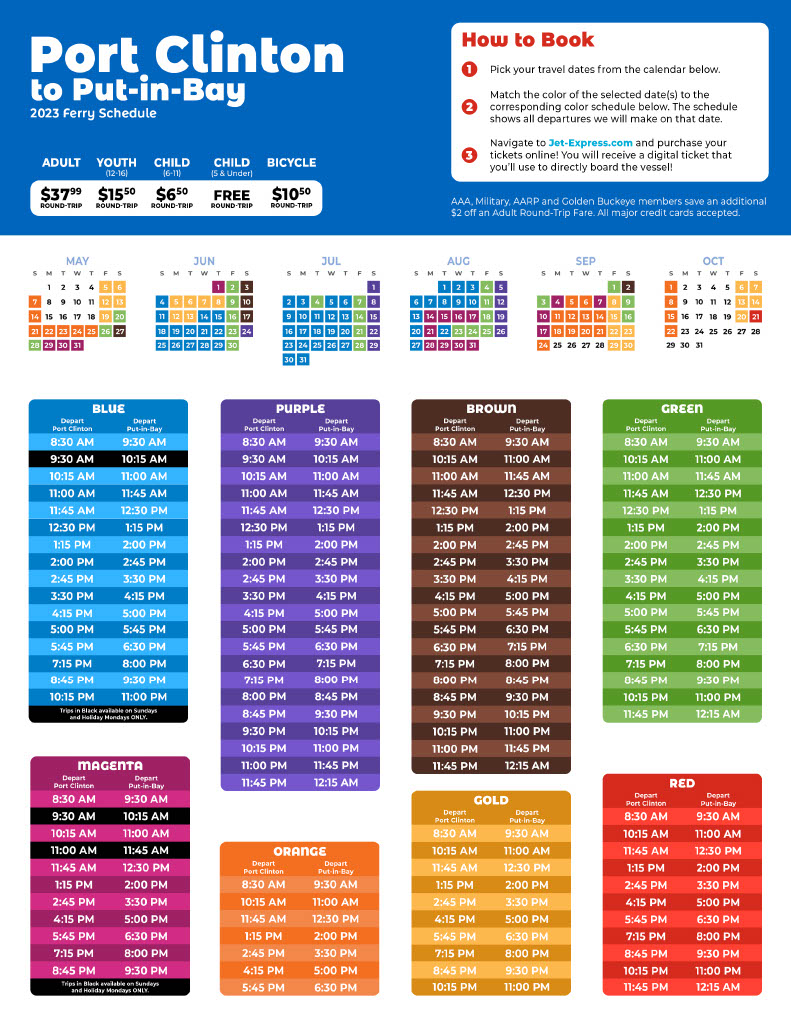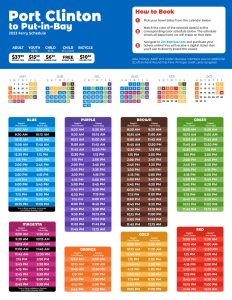 2023 Jet Express Schedule
The Jet Express is a passenger boat providing service to South Bass Island and Kelleys Island.  The boat leaves port from the jet express dock located in Port Clinton and Sandusky, Ohio. The ferry  Passengers can park their vehicle in the lot near the ferry, and head to the ticket booth to pay their fare.
From this vessel, passengers can opt to sit in the interior lounge, with comfortable seats and views from the many windows.  Otherwise, guests can opt to sit atop the boat on the open air deck. As you ride across the lake Erie on the Jet express ferry, you'll have great views of cedar point, other surrounding lake Erie islands, and even some Canadian islands such as Pelee or Middle island.
The jet express boat line is the fastest way to get to put in bay and experience it's great restaurants and bars such as the upper deck and all of the other nightlife the island has to offer. They offer one way and round trip tickets, along with restrooms on-board and at both Sandusky as well as Port Clinton docks, and once a year they even send as ferry boat to Cleveland. Once off the boat you can head to the put in bay visitor center and ask about some of the island's upcoming events. Otherwise, just wing it have a blast.
Once you get off the jet you can find golf cart rentals at the put in bay golf cart depot right next to Mr. Eds bar downtown.  Don't forget to make having fun your top priority as you explore the island! Click here to read up on some of the island's most popular attractions.
Jet Express Savings and More Info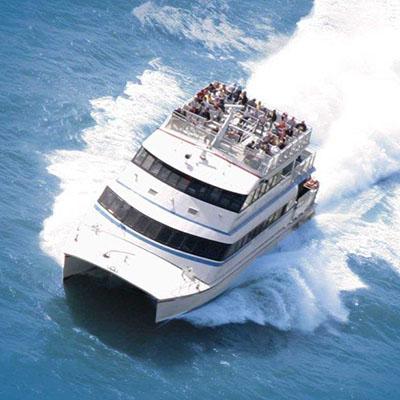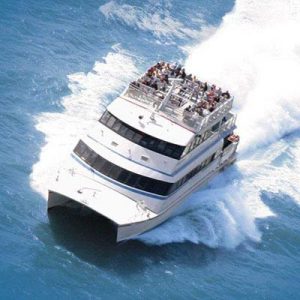 Get more bang for your vacation dollar when you ride the ferry from Sandusky Ohio or Port Clinton Ohio. With every paid ticket, Jet-Express Passengers receive a value packed coupon sheet as well as savings at many of Put-in-Bay's favorite destinations.
Discounts include $5.00 off golf carts and mopeds, Kids eat free in many restaurants, discounts on attractions and much more! Click the link above to download your coupons now.
Be sure to request your money saving coupons when you purchase your Jet Express ticket or you may now purchase Jet Express tickets on-line so place your order today!!
Ferry service to Put in Bay Ohio… where the ferry ride can be half the fun of getting to South Bass Island Put-in-Bay. Relax and ride while enjoying a narrated tour of the history of the island.
All-aluminum ocean-approved catamarans, the Jet Express are built in the USA. Traveling at speeds in excess of 40 mph the catamarans are among the fastest ferries in the world, yet the sleek twin hull design glides through all weather conditions with unmatched smoothness. Triple deck design provides beautiful viewing from an open air observation deck or from two stylishly appointed passenger lounges with tinted windows, carpeted decks and cushioned seats. Providing Early Morning/Late Night Service to downtown Put-in-Bay, board the Jet Express for the most convenient and most comfortable transportation to the island.
Frequently Asked Questions
How long does it take to get to put in bay on the jet express?
As a rule of thumb, the jet express arrives to the downtown Put-in-Bay harbor in roughly 30 minutes. In addition to the ride itself, you can expect to add around 5-10 minutes for loading and unloading. The ferry is considered to be the fastest way to get to South Bass Island travelling at over 40 miles per hour.
What happens if I miss my boat?
Don't worry! If you miss your boat you do not have to buy another ticket, you can simply bring your old ticket to the ticket booth and ask them to change your ticket to a new time. In other words, there is no need to panic if you miss your ferry. For future reference, be sure to check their schedule on the Jet Express website.
What is the Jet Express's Port Clinton address?
The ticket window for Port Clinton is located at 3 N. Monroe St. Port Clinton, OH 43452 and the address for the parking lot is 49 Jackson St. Port Clinton, OH 43452.   We recommend using Google Maps or Waze to calculate the fastest arrival time to the ferry dock.
Visit the Jet Express Website for more information regarding ticket fares and scheduled rides.
There are no reviews yet. Be the first one to write one.