Put-in-Bay Bash on the Bay 2020 is Cancelled


Unfortunately, event organizers for Bash on the Bay 2020 have made the difficult decision to cancel the event. This year's Put-in-Bay Ohio's country music festival was awaiting headlining acts to be released. Instead the island must cancel its biggest upcoming event.
Given the unprecedented turn of events, the island felt it was necessary to cancel due to covid-19. Put-in-Bay lodging, hotels & resorts were preparing to be at full capacity for this year's two-day event.
Concert Goers will sadly have to wait until next year. The event organizers have made the responsible decision to put the safety of the visitors first. Put-in-bay is open to the public as business establishments are slowly opening up.
Bash on the Bay 4 was planned to be a 2-day event. The headlining acts and line-up was expected to be released around this time. However, this years bash on the bay will not be happening.
The Bash on the bay country music festival is looking forward to hosting a two-day event in 2021. Stay tuned for more info!
Previous years saw the likes of Kid Rock and Uncle Kracker in 2019, Rascal Flatts in 2018, and Toby Keith in 2017. Each year, the event was held at the Put-in-Bay airport. Next year's headliners are expected to be two of the biggest names in country music! Click here to read more about other upcoming events on Put-in-Bay this summer.
Put-in-Bay is Open!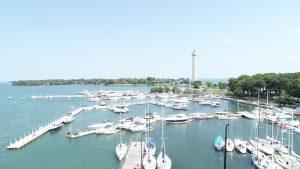 The Put-in-Bay ferries such as the Miller Ferry and Jet Express have began transporting visitors from both Port Clinton and Catawba. Home rentals, hotels & resorts have been hosting tourists as businesses slowly open back up.
Swimming pools, Put-in-Bay bars and restaurants have opened back up and people are having having a good time. During the months in which Put-in-bay was closed, the Put-in-Bay Island Guide Facebook Page hosted virtual live music concerts. These virtual bay concerts included local island musicians and were sponsored by various businesses owners on the island.
Come see us at the bay and check us out! As Put-in-Bay bars, restaurants, attractions and lodging open back up we ask that all visitors be smart and mindful of everyone around them. Thanks for reading our blog and see you at the bay!
For any other questions regarding your stay at Put-in-Bay, feel free to call us at 216-898-9951 or click here for more info.
There are no reviews yet. Be the first one to write one.