The Burning Snowman Party! Friday February 26th
The big Port Clinton Ohio winter event returns this February. This all day festival features local food vendors, craft beers, and Live Bands! From 12 noon through 10 PM, enjoy the festivities with your friends for a good cause. We close our night with the Burning of a 25ft.+ Snowman, to say goodbye to those Winter Blues! This climax is the burning of a giant paper snowman to call for spring to arrive.
In addition to the initial goal of promoting local Lake Erie businesses and bringing people to the area during an otherwise slow time for tourism, the Burning Snowman Festival raises money for charities helping children in Ottawa County, such as Kids for Christmas.
Parking will be limited at the festival grounds, so please take advantage of our free round-trip shuttles provided at these locations. Last year, more than $30,000 was raised for local charities from the over 5,000 visitors that attended the festival.
Burning Snowman Fest souvenir merchandise is available at the Put-in-Bay T-shirt Co. in Port Clinton, online at putinbaytshirt.com and at the festival. Bars and restaurants around town will have special music and themed events to coincide with the festival.
On-site lodging is available up the street at the Commodore Perry Inn & Business Center. The Commodore Perry books up quickly so make sure you get your online reservations in early.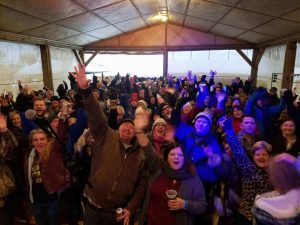 Entertainment Line-Up
Corduroy Road :: 1 PM – 2:30 PM
Master TC & The Visitors :: 3 PM – 4:30 PM
Rockstead :: 5 PM – 7 PM
Dj Adubb :: All Day!
Shuttle Stops
Cleats
Twin Oast
Catawba Island Brewery
1812 Food & Spirits
Beer Thirtys
Bell Mell Tavern
Slaters
Mr. Eds
Silver Top Sports Bar
For more information on the Burning Snowman event, or last minute changes and additions, please visit https://www.facebook.com/BurningSnowman/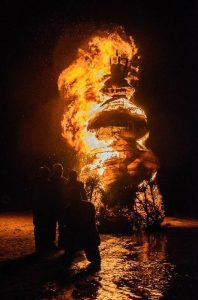 There are no reviews yet. Be the first one to write one.