To subscribe to the Put-in-Bay Gazette please visit their website by clicking here.
Above is an example of the new kind of branding images you'll see for Put-in-Bay in the coming months. The Put-in-Bay Chamber of Commerce, soon to be re-known as the Official Tourism Bureau, held it's digital day on June 4th and presented to the crowd the new logo you see at the top of the image, as well as the new slogan "An Every Day Island Getaway." All of the colors and text styles you see in the image are part of the overall rebranding campaign. – Photo by Barry Koehler; Design by Brian Cultice
Put-in-Bay Mourns the Loss of a Legend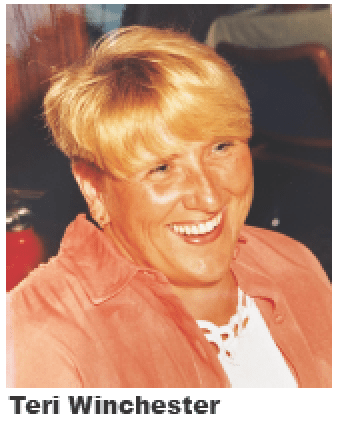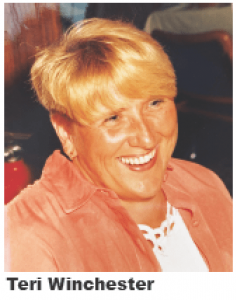 Rosann "Teri" Winchester, 75, manager of the Round House Bar for more than 35 years, died in Florida on Wednesday, June 17th, in Ft. Myers, Florida, surrounded by her loving children. Teri was born in Sandusky, Ohio, on July 27, 1944 to the late Norman and Grace Winkle. Teri is preceded in death by her brother Norm and sister "Pete." She is survived by her children Ty (Jennifer) Winchester, Amanda (Nick) Winchester, her partner in crime Frank, and a family of nieces and nephews. Teri received her teaching degree from Bowling Green State University and taught school until the love of the lake, island and sailing drew her to Put-in-Bay where she was the general manager of the Round House Bar for more than three decades.
Teri lived her life with an infectious passion for joy. She truly was one of a kind as a maker of rainbows, mischief and magic, for she could turn even ordinary days into the most spectacular and unforgettable. She had a way of making those around her family, from her "Orphan Easter," Prom, and Pyrate Fest, to just about every other island event known, her family grew to extraordinary numbers. Teri was a true Superhero of a woman, raising two children, but guiding the lives of so many others. She was the smile on a cloudy day, the laughter on a sad day, and the light on a dark day. Teri lived her life believing that anything was possible and truly believed that "When life gives you lemons, you make Lemonade." She was the inspiration for songs, stories, and paintings. She was a driving force on Put-in-Bay, and no event was complete without her involvement. She never needed a reason to celebrate life, loving parades, fireworks, champagne, good times, great friends and making memories. She was loved by all. If Teri made any magic in your life, be sure to share it with others because after all, why not make Lemonade?
Those who worked for and with her over the years reads like an island who's who of memorable island bartenders, entertainers and staff, plus her contributions to the island community were numerous. Her creativity, enthusiasm, mild manner and kindness left a lasting impression on so many who love Put-in-Bay.
Teri became manager of the Round House at a time the island was growing by leaps and bounds in popularity. Teri put new life in the Round House by a combination of promoting events and providing first-class entertainment. Some of her events still go on to this day and some are gone, but the fun memories of Whiskey Light ceremonies, the Prom, Trash Can Races, Bartender Olympics, the Wake and more will never be forgotten.
Thanks to her, great entertainers graced the stage behind the bar over the years. Among them are entertainers Bob Gatewood, Ray Fogg and Mike "Mad Dog" Adams who still play on the island to this day. Who can forget the heydays when Ben Dover and the Screams rocked the Round House?
Teri also was a contributor to the island community in other ways, too. She was on the Village of Put-in-Bay's Board of Public Affairs (Water Board) for many years when the growing pains of development called for modern water and sewer services. Teri was also dedicated to raising funds for the annual July 4th Fireworks display, plus was instrumental in starting Pyrate Fest. In her spare time, she also helped Sue Thwaite cater many island parties, and later made flower arrangements for island weddings. In retirement, she worked for Susan Market at her shop at the Miller Marina corner and spent winters in Florida.
Teri also enjoyed cruises and other vacations with her island friends.
Teri appeared in one of Bob Adamov's island mystery books, Tan Lines, as a Mae West type character. She told Bob, "Make me into a Mae West type character and change my name to Remington." Part of the dialogue went, "Yes, and be careful, I'm always loaded." When he asked, "How long have you worked here?" Teri responded, "A lifetime," she smiled. "I couldn't ask for a better job or place to work than here on Put-in-Bay."
A celebration of life will be held for Teri, on her birthday, July 27, 2020, at the Crew's Nest here on Put-in-Bay. In lieu of flowers, the family asks that donations be sent to St. Jude Children's Hospital in honor of Teri's passion for helping others. Donations may be made at.
http://giftfunds.stjude.org/teriwinchester.
More in the July Issue of the Gazette:
• A special tribute to Teri Winchester by Ray Fogg
• June 2020 Island Diary
• Moss on the Rocks (including fireworks cancellation information and algal bloom forecasts)
• A rundown of the Police happenings on Put-in-Bay
• Upcoming events in June
• Put-in-Bay and Middle Bass Island community fundraisers
• Images from the Put-in-Bay High School Class of 2020 graduation ceremony
• The Secrets of Green Island
• The history of "Doc's In," the former floating dentist office at the Crew's Nest
• A story on African Americans contributions during The Battle of Lake Erie by Mary L. Staley
• Kelleys Island news
To subscribe to the Put-in-Bay Gazette please visit their website by clicking here.
There are no reviews yet. Be the first one to write one.