As Put-in-Bay prepares for an eventual reopening to the public on May 11th, the Miller Ferry has announced upcoming changes to their service schedule. As well as opening to visitors for the first time in 2020, the island is seeing an increase in arrivals of both island workers and property owners. The new level of demand is beginning to necessitate getting to and from the island later on in the day. As such, the Miller Ferry is beginning to ramp up their service to close to the capacity that would be expected in normal times.
May 11th-17th Ferry Schedule
The schedule changes will be coming in two phases. The first phase starts on May 11th and lasts for one week. This phase reintroduces Saturday trips to the schedule, so for the first time all year, the Miller Ferry will be running daily. This schedule phase will last one week, with the last boat to Put-in-Bay departing the mainland at 6:30 PM. This is also the latest boat of the 2020 season, as the last ferry of the day up to this point has been 5:00 PM. These boats will also see the first tourists coming to the island for the 2020 season!

May 18th-June 7th Ferry Schedule
The next big change will follow a week later on May 18th, and it will add a 7:30 boat to the island on the weekend. Riders can also get back to the mainland on a 7:00 PM boat. This is pretty close to in line with what we would expect service to look like during a normal month of May.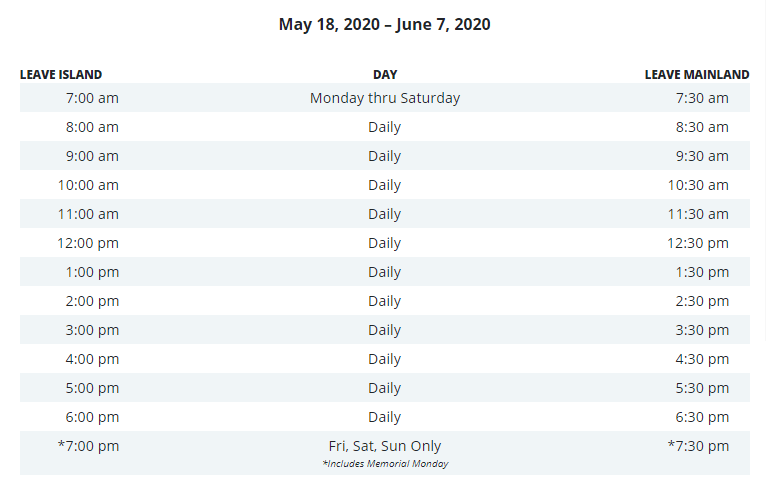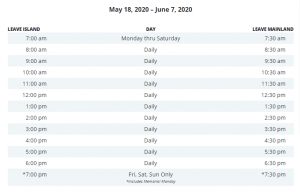 Ferry Preparing For Business As Usual
Like many of the other businesses who rely on visitors to the island, the Miller Ferry is ready to welcome back guests to Put-in-Bay for the 2020 season. These schedule changes illustrate both the current increased demand of workers beginning preparations, as well as the future increased demand from visitors finally getting the green light to join us at Put-in-Bay and get this 2020 season underway! You can learn more by visiting the Miller Ferry online at www.millerferry.com or by calling 419-285-2421.
There are no reviews yet. Be the first one to write one.