Put-in-Bay Bars and Nightlife
What if I told you there is an island in the middle of Lake Erie full of local bars and restaurants and has a booming nightlife scene? Put-in-Bay Ohio is the place to be all summer long. The island is only accessible by ferry and is often nicknamed "The Key West of the North" for its Caribbean feel. The Put-in-Bay restaurants and bars are all local small businesses that entertain thousands of fun-seeking visitors every day! From mojito bars to nightclubs, Put-in-Bay has it all when it comes to places to go on a night out. The heart of downtown Put-in-Bay is home to dozens of bars and restaurants that feature live entertainment, drink specials and fun events! Your Lake Erie Island experience will be full of amazing Put-in-Bay nightlife experience.
The island is one of the best places in the United States to host a bachelor and bachelorette parties. Weekends on Put-in-Bay are the place to be for adults looking to have fun. Guests enjoy swim up bar hopping during the day and hit the town at night. Taxis are working non-stop to make sure guests can get from their Put-in-Bay hotels and lodging to the pool bars safely.
Once downtown, it's now up to you to decide which bar/restaurant to spend your time in. If you are looking for a locally brewed draft beer head to the Put-in-Bay Brewery and Distillery. Located on Catawba Avenue, Mojito Bay entertains its guests with a Caribbean vibe. The outdoor tiki bar allows you in to dip your toes in the sand while enjoying a margarita and live music.
Going further down the downtown strip and Delaware Ave you have Mr. Eds Bar & Grille which is arguably the most popular bar on the island. In addition, Mr. Eds has live entertainment every weekend and serves great food. The other go to spot is the Round House Bar known for its spherical shape. The Round House also features live entertainment most days of the week.
With so many bars it's impossible to fit them all in one blog. Here is a list of all the bars and restaurants we recommend for the best Put-in-Bay nightlife experience:
The Best Put-in-Bay Bars
-Mr. Ed's Bar & Grille
-Frosty's Bar
-Joe's Bar
-The Round House
-Topsy Turveys
-The Reel Bar
-Put-in-Bay Brewery
-Heineman's Winery
-Mojito Bay
-Hooligans Irish Pub
-TJ's Smokehouse
-The Boathouse Bar & Grille
-Mossbacks
-The Fishbowl
-Beer Barrel
-Biergarten (located at the Goat Soup and Whiskey)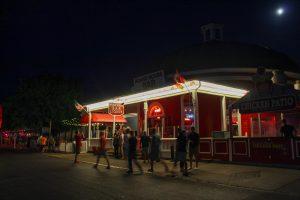 The Round House at night is something you wont want to miss!
With so many places to choose from its best to stay a few days to ensure you can enjoy all the island Bars, Restaurants and attractions. For any hotels and Put-in-Bay lodging inquiries give us a call at 216-898-9951 or click here to visit our lodging page.
There are no reviews yet. Be the first one to write one.