Put-in-Bay may be small in size, but it has an incredibly large music scene in the summer! There are close to a hundred different bands and entertainers that play at Put-in-Bay for just one show, or a regular summer schedule. You will find reggae, hip hop, classic rock, blues, piano solos, big bands, Motown, original hits, and everything in between. Check out the Official Put-in-Bay Entertainment Schedule for dates, locations, and entertainers. Also check out our lodging options to book a great summer weekend stay in Put-in-Bay.
You can catch Put-in-Bay's very own Bob Gatewood playing his tunes close to 100 times a summer, either with his band Calabash (Round House Bar, Beer Barrel) or as a solo artist (Fishbowl). His popular CD, "Be Good to Yourself" spawned a #1 and #2 song on Cleveland radio as well as topping the playlist on several local FM stations. His homegrown songs are recorded in Nashville with rock legends and they regularly win critical acclaim and awards. He is a masterful guitar player, has been dubbed a local legend by the Plain Dealer, and the mayor of Put-in-Bay even declared a day in his honor. In 2014, Bob's hot song "Friends-of-the-Bay" was selected as the official song of Put-in-Bay by the village council!
You can hear his music and download it at bobgatewood.com
A Put-in-Bay Ohio Round House Bar island tradition since 1980, Mike "Mad Dog" Adams is living-proof that "Every Day Above Ground Is A Gooood Day." That catch-phrase he began using in his show back in the early eighties and continues to this day. "Mad Dog" has made a career of being a music critic/writer with a editor salary for Scene Magazine, spending winters on the road headlining music and comedy clubs large and small. He travels British Columbia and Alaska to the Cayman Islands and Mexico and throughout the United States. Mike "Mad Dog" Adams has appeared in concert opening shows for a wide range of legendary performers.
He has also appeared on many local television and radio shows throughout the U.S. Mike has made appearances in at least 4 films. He has written and performed several radio commercials and currently has two weekly one-hour radio programs on WPIB and WPCR, www.portclintonradio.com & www.putinbayradio.com. Come see why Mike "Mad Dog" Adams legendary afternoon performances at The Round House Bar are so popular. In no time at all you'll be hoisting a refreshing beverage, singing, chanting a Ziggy Zaggy, and agreeing that, "Every Day Above Ground Is A Gooood Day!"
You can hear his music and download it at mikemaddogadams.com
The Ray Fogg Show has been an island favorite for over 25 years. During the off-season, Ray's tour has taken him to world famous venues across the country including Sloppy Joe's Bar in Key West and the Tropical Isle in New Orleans' French Quarter. But he performs almost every weekend of the summer season at the Reel Bar or the Round House Bar on Put-in-Bay Island. The Detroit News said Fogg "weaves music, comedy and heartfelt songs about island life into an entertaining show." The Daily Oakland Press described his show as …"gut busting, adult humor." The Columbus Dispatch said he's "one of Put-in-Bay's most popular entertainers…" And Cleveland's Sun Papers said, "What attracts people to Fogg's shows is his ability to write, and better yet ad lib, edgy comical songs and anecdotes perfectly suited to a beer-drinking crowd."
Its hard to put a tag on Fogg's shows. Most leave the show knowing that they have laughed hard and often. But Fogg gets his laughs within clever songs that are not for the kids adults only! So, some call it a comedy show and some call it a concert.
You can hear his music and download it at rayfogg.net
Killer Flamingos
An infectious blend of pop, rock, and electronica, Killer Flamingos produce a sound that is turning heads and capturing listeners everywhere. The band has quickly amassed a large following of devoted fans and are gaining recognition as Detroit's most popular party band. Anyone who has seen Killer Flamingos can attest to their amazing live show. Superb musicianship, explosive stage presence, and concert-style performance have secured the band an important place on the Detroit music scene. The band has opened for artists such as Tom Jones, Sloan and Grammy winners, OK GO. They have won "Hour Detroit" magazine's Best Band in Detroit 2008, 2009 and 2012. "Ambassador" magazine's Best Band in 2012. WDIV's "Click On Detroit" Best Local Band (2008-2013) and have been awarded by Ann Arbor's "Current" magazine for years running.
You can hear their music and download it at killerflamingos.com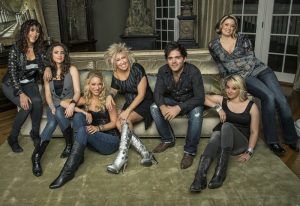 The band Mustang Sally has performed alongside high profile names such as Montgomery Gentry, Gretchen Wilson, Big & Rich, and Blake Shelton, in addition to being demanded worldwide as fair and festival headliners, receiving a standing ovation at the Kickin' Up Kountry Festival in Thief River Falls, MN, and playing to sold out crowds at the Havelock Country Jamboree in Havelock, Ontario. Put-in-Bay is a favored summer stop for this high energy group. They routinely perform over 200 dates a year, and have toured the U.S. from coast to coast, as well as Europe and Asia. At the time of the on-line release of their debut self-titled album on GMG/Universal Records, the ladies were featured in Country Weekly Magazine and surprised the magazine staff with a private concert.
You can hear their music and download it at mustangsallyband.com
The Menus
Longtime Menus fans are no longer surprised by Mr. Goldrainer's sunflower bonnet, platinum wig or Elmo headdress. They so love their "Mustang Sally" coming from a topless guy in a flowered skirt, that they scream for it, log on to the band's chat room to talk about it and plan their days off so they can make trips to see it. The band travels mostly Ohio and Kentucky, making regular trips to bars where they've become popular. The Bait Shop, Toledo; A1A Sandbar, Lexington; Flannagan's, Dublin. In their hometown, they play the Blue Note in West Price Hill about once a month. At every stop, fans see Mr. Goldrainer skateboard on his hands through the audience and dress in women's clothes and handmade hats. But they also say the getups and schtick don't overshadow the fact that the veteran musicians can actually sing and play.
You can hear their music and download it at themenus.org
The Flyin Jays and their band headman Jamison Charles are quickly becoming a favorite on the Lake Erie islands and Put-in-Bay. Utilizing acoustic instruments with blazing riffs and big vocal harmonies, they create a unique sound all their own. The band plays popular music from the good ol' days to current pop hits, all with an island twist. And they don't just play covers. Their original music is extremely unique and will have you feeling like driving down a country road, or sailing away into the sunset. The Jays are not just an island band. The Jays can be found in bars and pubs to fairs and festivals throughout the region.
You can hear their music and download it at flyinjays.com
There are no reviews yet. Be the first one to write one.