Why stay at the Put-In-Bay Waterfront Condos?
The brand-new Put-In-Bay Waterfront Condos have been in high demand ever since construction of the facility was finished in June of 2016. We are often asked what makes the Condos so great, so here are the Top 7 Reasons to Stay at the Put-in-Bay Condos. They boast arguably the best views of Lake Erie and the surrounding islands, a fantastic swimming pool and so much more. There are many things to love about the Condos! For any inquiries regarding availability, please visit www.putinbaycondos.com or call our office to book directly at 216-898-1105.
Here are the 7 lucky reasons to stay at the Put-In-Bay Waterfront Condos:
1. The Put-In-Bay Waterfront Condos was voted the best hotel/resort facility!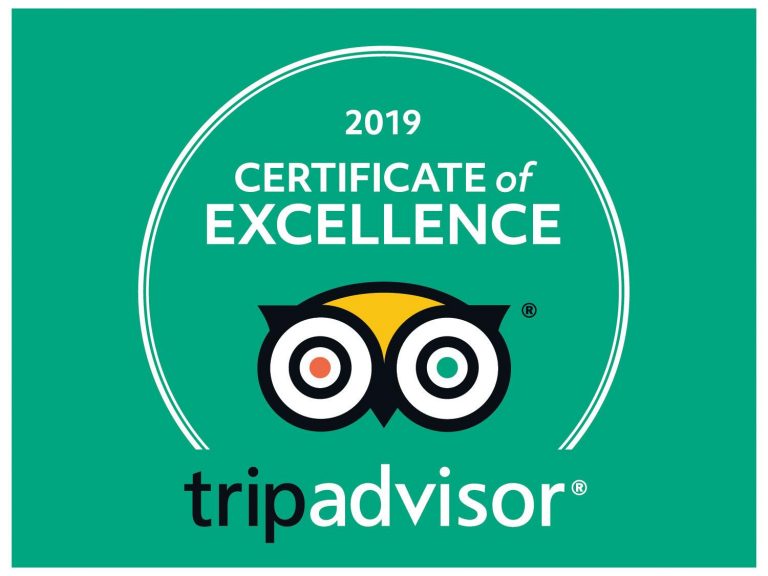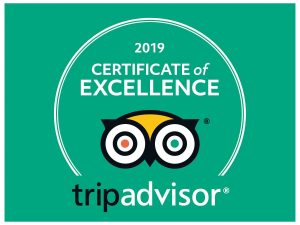 For 3 consecutive years, the Put-In-Bay Waterfront Condos have been voted the best hotel/resort facility on the island. They are also Best of the Bay award winners for 3 years in a row. More importantly, the Put-In-Bay Condos have also won TripAdvisor's Certificate of Excellence and boasts the Booking.com Guest Awards certificate. After years of hard work and dedication towards understanding our customer, we have collected some of the travel industry's most prestigious awards for property managers.
2. You'll have one of the best views on the island!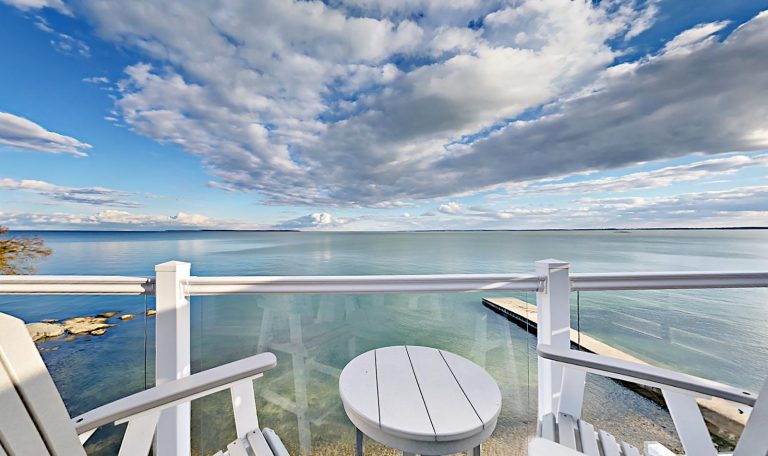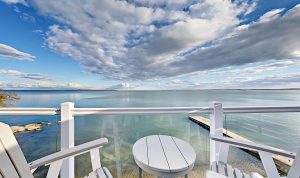 The views from the lakeside decks are worth every penny. From your deck you'll be able to see the mainland, Kelley's Island and even Cedar Point! You will feel like you left Ohio and are in another country. Many people even call Put-in-Bay "The Key West of the North". So, bring something cold to drink and prepare yourself to relax on our waterfront decks!
3. Relax and catch some sun at our Put-In-Bay Condos pool!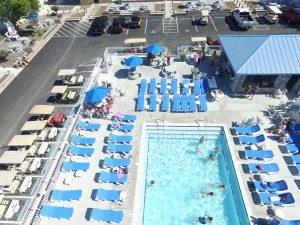 Our brand-new facility also offers a brand-new pool area! It's a beautiful, yet simple setup with a large in-ground pool and great pool chairs to lay out on. Kids enjoy safety and fun of the pool and pool deck. Families will find this one of the best Top 7 Reasons to Stay at the Put-in-Bay Condos! Floaties and pool toys are encouraged! So make sure to put your favorite swim suit on jump in the pool!
4. Have a barbecue with friends and family in our picnic area!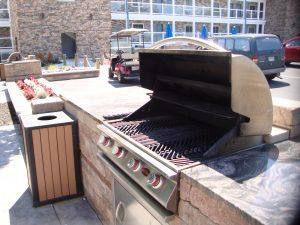 Located between the condos themselves and the parking lot is a large picnic area equipped with multiple gas grills and plenty of picnic tables for renters to use. Guests will often bring up hamburgers and hot dogs to grill out and make friends with other guests! It's the perfect place for some family time or a traditional barbecue with your closest friends.
5. Put-in-Bay Condos Golf Cart rentals onsite!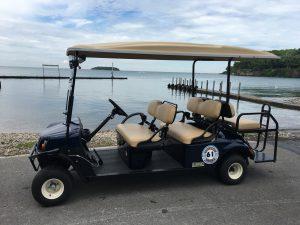 Put-in-Bay Condo Golf Carts are exclusively rented to Island Club and Put-In-Bay Condo customers. Ride around in style knowing you'll have some of the newest and fastest golf carts on the island. Definitely one of the Top 7 Reasons to Stay at the Put-in-Bay Condos! For inquiries regarding our golf cart rentals visit the Condos Golf Cart Website to make an online Put-in-Bay golf cart reservation or call our office at 216-898-9951.
6. Enjoy events like the Island Club Spring Fling and Fall Ball!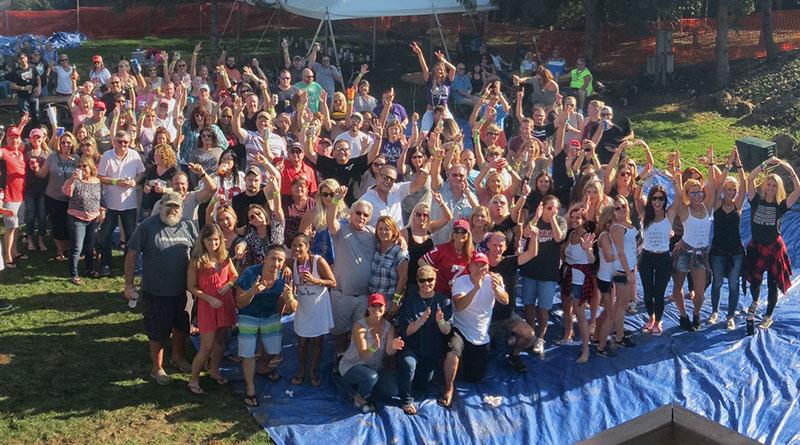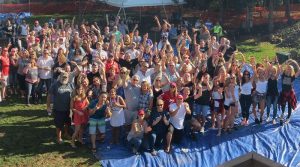 Every year, the Island Club hosts Put-in-Bay events offering special promotions for Island Club and Put-In-Bay Condo guests. You'll be invited to enjoy live entertainment accompanied by free food and beer! Not to mention that the Island Club Fall Ball Party aligns with the Put-in-Bay wine fest. Does it get any better than that? October is actually one of the best month's for island events… Fall Ball, Winefest, Oktoberfest, The Wake, and Halloween!
7. Relax in the interior luxury of the condo!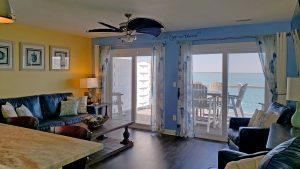 The attention to detail inside the condos is incredible. There is fun artwork throughout the condo, the furniture is brand new, you'll find a large TV in the living room, a beautiful deck area, comfortable beds, a thoughtfully decorated bathroom and so much more! Add in the fully stocked kitchen and comfortable furniture and the Put-in-Bay Condos just can't be beat!
There are no reviews yet. Be the first one to write one.