Miller Ferry Schedule - 2021 Season
NOTICE: Miller Boat Line will be implementing a policy that they have used in the past, which requires visitors bringing a vehicle on weekends to provide proof of accommodation. This is being done to provide a better experience for all visitors. If visitors are staying the night and bringing a vehicle, Miller staff will ask them to provide a proof of accommodation at their Catawba Ticket Booth prior to ticket purchase.
Passengers may travel back and forth to the island with no documentation required.
The Miller Ferry runs every day, every half hour, rain or shine, from 7:00 AM to 7:00 PM. Their schedule is regulated by PUCO so you can be sure of the schedule times unless there is a serious weather event. Each trip accommodates both passengers and vehicles but during busier passenger times, vehicle traffic may be limited.
Each of the Miller Ferries can hold up to approximately 26 vehicles when fully loaded, or up to 600 passengers on non-vehicle trips. Motorcycles are also allowed on the ferry and there are a limited number of tie-downs to hold motorcycles in place during the sometimes bumpy ride over.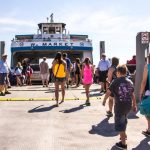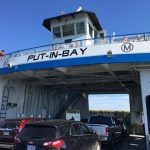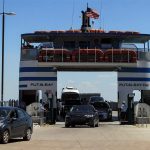 It is recommended to arrive at the Miller Ferry ticket booth, either on the Catawba side or the PIB side, with plenty of time to spare in order to purchase your tickets. There are no reservations so it boarding is a first-come first-served method. It's unusual for passengers to have to wait more than one boat except at the very height of a busy day.
Cars, trucks, delivery panel-truck and all other small vehicles should plan to be in line for the ferry 30 minutes prior to departure. Larger vehicles such as semis will need to make an appointment due to size restrictions. Check the Miller Ferry Schedule for details.
Where to Catch the Miller Ferry
The Miller Ferry can be accessed on the mainland at their Catawba Island dock. Even though it is called "Catawba Island", it is connected to the real world with a bridgeway at one end. So it not an "island" in the same sense as Put-in-Bay is an island.
You can use Google Maps to plan your driving route; just use the address: 5174 E Water St., Port Clinton, OH 43452 as your destination. Alternately, most online mapping programs will also direct you through the Miller Ferry is you type in "Put-in-Bay Ohio" as your destination.
Make sure you check the Miller Ferry Schedule for their sail times and add on about 20 minutes for parking, unloading, and walking from the parking area to the ferry ticket booth. For guests with disabilities, to avoid a long walk, there are passenger and luggage drop off areas at the top of the dock.
There are five free parking lots adjacent to the ferry dock if you do not take your vehicle across. There are also a few paid parking areas closer to the dock if you don't want to walk as far. For guests with handicap placards, there is handicap parking immediately at the drop off area. The Miller Ferry docks, ferries and retail stores are all wheelchair accessible.