Welcome to Put in Bay
Welcome to Put-in-Bay 2014 and your complete Put in Bay Ohio information source for hotels, lodging, ferryboats, golf carts, camping, boating and home rentals, all located at Put-in-Bay, South Bass Island, Ohio. Download the Official 2014 Put in Bay Island Visitor Guide & Vacation Planner before you visit!
There is no doubt that Put-in-Bay Ohio is one of the most unique places you will ever visit. Our tiny two by four mile island is dotted with historic homes, the nation's third tallest monument, quaint restaurants and local pubs. Beautiful water surrounds Put in Bay where you will find the best walleye and perch fishing in the United States.
October 6, 2014 - Oktoberfest is Oct. 10-12! This Put-in-Bay family tradition celebrates Oktoberfest with lots of food and live entertainment by the Maxx Band. Great family fun is had by all on Saturday from 11-7 and Sunday from 12-5. Enjoy a wide variety of German foods from your favorite island establishments, all under one roof/tent. Specialties include spatzel, cabbage rolls, brats, sauerbraten, Wiener schnitzel and all your favorite German sweets including cream puffs! This event is held under a large tent located on Toledo Avenue in DeRivera Park at the Jet-Express end of the park. Entry is $4.00, or $6.00 for a 2 day pass. Children 12 and under are free when accompanied by an adult. For reservations, check our Put-in-Bay Lodging or calling 888-742-7829.
Over 2 million people annually discover the magic of the Bass Islands of Lake Erie. Put-in-Bay Ohio on South Bass Island is the crown jewel of the Lake Erie islands of Ohio. This website will provide you with all the information you need to plan that special Put in Bay getaway with your family or friends.
If you LOVE Put-in-Bay, then LIKE US on Facebook!!!
Putinbay.com now offers our summer vacation visitors the convenience of a mobile-enhanced website. We are the first and only Put-in-Bay mobile web presence! We have entertainment schedules, a Put-in-bay calendar of events, Jet Express ferry schedules, bars and dining info, shopping lists, and Put in Bay attractions locations. All of which is conveniently located on our PutInBay.com Mobile Website
Beginning in April of each year, visitors flock to Put-in-Bay Ohio for an island retreat. Shopping, boating, perch fishing, walleye fishing, great restaurants (and food reviews), The Roundhouse Bar, and a vibrant nightlife offer something for everyone. Family vacations can be a great learning experience for the kids starting with the ferry to Put in Bay and the many historical events that have taken place on the island.
While exploring Putinbay.com, you will learn about the many family activities Put-in-Bay has to offer as well as all the services you may need for your Lake Erie island getaway. We have all the information you need for a great family visit to Put in Bay.
Putinbay, Nicknamed the "Key West of the North" offers an exciting nightlife with live musical entertainment to satisfy all generations. Strolling Barbershop singers, bagpipers, steel drums and Ohio's best entertainers (such as Pat Dailey and Mike "Mad Dog" Adams) are frequently seen on Put-in-Bay island.
Relax, you're on island time, explore putinbay.com and be sure to register for our free Put-in-Bay weekend giveaway and monthly newsletter via e-mail where we keep you informed of Put-in-Bay island events.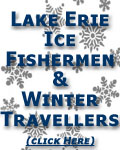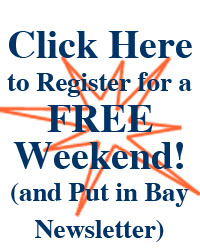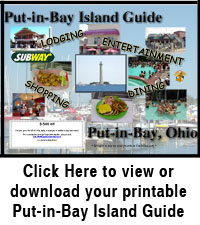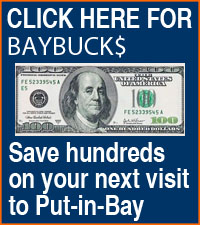 Upcoming Events
No events currently on file, please check again soon.